Safety First Car Seats
Safety 1st Car Seat
Safety First makes a number of different car seats that are good for infant to toddler.
Safety 1st OnBoard 35 Air Car Seat, Decatur
With additional leg room and a harness specially designed to fit smaller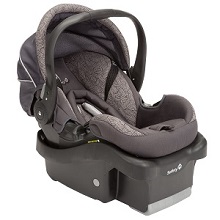 babies, the onBoard35 Air easily accommodates the growing baby in a rear-facing position from a tiny 4 on up to 35 lbs. and 32 inches in height.
The advanced air cushion system protects your child's head, where it's needed most in a side impact crash.
Customizable insert and low harness slots make the seat ideal for tiny travelers and adjustable for growing babies.
The carry curve handle features ergonomic design, making life easier for mommy..
One click LATCH installation system allows for a quicker and easier install. The deluxe stay-in-car base has three positions to give you a custom fit to your car. The adjustment mechanism is placed where it's easy to access. No need to lift the seat out of the car to reach it.
Colors: Decatur, Flutter, Julianne, Sea Breeze and Vintage Romance
Read more and purchase at Ebay.com

---
Safety 1st OnBoard Plus Infant car Seat, Plumberry
Safety 1st introduces the first infant car seat with air protect plus technology; positively the safest choice in full body protection.
The Air Protect+ combines the advanced protection of the Air Protect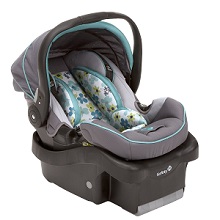 cushion system with patented GCell HX foarm designed with hexagonal shapes for superior protection around the torso. Together they provide full body side impact protection.
The ergonomic handle makes transport easier, features a soft-touch grip for more comfort when carrying.
A head pillow and low harness slots are ideal for tiny travelers and easy to adjust for growing babies.
Stay-in-car base adjusts easily for a custom fit and features 1-Click LATCH for quick installation.
Check additional features and purchase at Ebay.com

---
Safety 1st Complete Air 65 Convertible Car Seat, Seabreeze
This Safety 1st convertible is for infants rear facing 5 to 40 lbs. and forward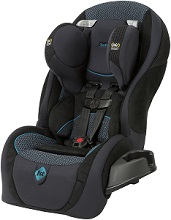 facing 22 to 65 lbs.
It has the 5-point harness that can be used at the beginning until they grow a little bigger and then it can function as a regualr booster seat.
It features the Air Protect Side Impact Protection advanced air cushion and a 5-point harness system with upfront adjustment.
LATCH equipped, adjustable head support and a removable cup holder.
Though not easy to do (according to customer reviews) the cover will come off and is washable.
Head support is extremely padded, soft and cushioned.
Colors: Seabreeze, Decatur Red, Great Lakes, Julianne, Brody and Sugar/Spice.
---
Safety First Chart 65 Air Convertible Car Seat, Yardley
This Chart 65 Air convertible has a rear-facing weight range of 5 lbs. to 40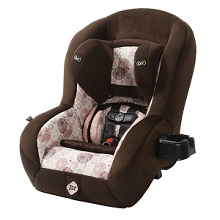 lbs. and then you are able to keep your child in a 5-point harness all the way up to 65 lbs.
Featuring up-to-date designs, the chart air car seat is stylish as well as safe.
The adjustable headrest grows with your child. Features a cup holder that is removable.
Other features are washable seat pad, removable cup holder and 5-point harness with an up front adjustment.
There is a pull tether that is used to adjust the headrest / shoulder straps.
Machine washable seat cover.
Colors: Yardley and Monorail
Available at: Ebay.com

---
Where To Buy Baby Car Seats
Some very good online deals can be found for all of the different brands of baby car seats and car seat covers, including Evenflo, Safety First, Britax, Graco as well as generic covers made to fit all baby car seats such as those from Hot Toddies, Itzy Ritzy, Baby Bella andEmmalu Designs at Ebay and Walmart.