Baby Car Seat Accessories
Shop Online and Save
Child Car Seats Covers
A few reasons for getting a new baby car seat cover are:
Your old cover is worn or soiled
Get one that is color co-ordinated to your car interior
Change to a color that suits your taste better
To get a chic style baby car seat cover
Have an extra so you can wash one while the other one is in use
The new baby is of the opposite sex to the one who was previously using the car seat
You have a choice of bold and exciting prints and patterns or you can chose a soothing, simple pattern.
To go along with your new car seat cover you may find that you need some of these nice baby car seat accessories.
Summer Infant Snuzzler Infant Support for Car Seats and Strollers, Ivory
This infant support is a perfect fit for all babies and preemies because it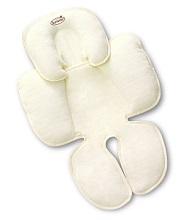 helps support your baby's head while seated in car seats, strollers, bouncer seats and infant swings.
The head support is separate and adjusts length-wise as your baby grows and gives a custome fit.
It is reversible for two style options; to provide cozy warmth or cooling comfort. The head portion velcrows to the body portion so you can use the pieces separately if you need to.
Crash tested for safety and the unique contours work well with most harness systems.
Colors: Ivory, Black Velboa and Velboa Pink.
Available at Ebay.com and Walmart.com

---
Tiny Love Take-Along Arch, Sunny Stroll
The Sunny Stroll Arch easily attaches to strollers and baby carriers. Perfect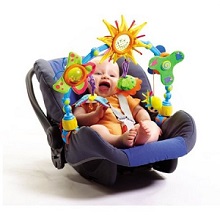 developmental fun for baby on a stroll.
Has rattling butterfly ball with crinkly texture, baby activated propeller and transparent sun prism.
Has easy attachment clips.
Available in Sunny Stroll, My Nature Pals Stroll and Princess Butterfly.
View others at Ebay.com

---
Summer Infant Cushy Straps, Ivory
These Cushy Straps are soft-cushioned shoulder strap covers designed to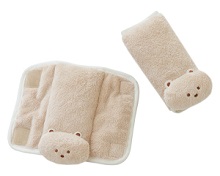 help protect your little one from strap irritation. They easily attach to most harness systems with hook and loop fasteners.
Available in three cute designs: Blue Cat, Tan Bear and Pink Bunny
If you have a baby in the family that complains when put into their car seat then it may be because the straps are digging into their shoulders. These little CushyStraps will solve that problem.
Previous custormers suggest that you wash them before using to prevent a possible rash.
Available online at: Ebay.com and Walmart.com

---
Backseat Organizer by Cozy Greens
This backseat organizer for all your backseat clutter is hand-crafted from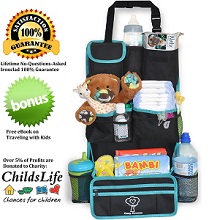 Top Quality materials and reinforced on the points that receive the most wear. It won't rip, won't come loose and won't break. Durable waterproof material.
With great ease you can install your Cozy Greens Backseat Organizer and adjust the attachment straps to fit your seat.
You will be delighted with variety of pockets and great amount of storage space available in this backseat organizer. It will hold anything you need for a pleasant journey.
Travel prepared for any unexpected surprise.
Will encourage your child to keep their part of the vehicle nice and neat.
Buy one for any family member with children or just a lot of stuff in their car backseat.
---
Where To Purchase Baby Car Seats Accessories