What Graco Baby Car Seat To Buy
If you are looking to buy a new baby car seat then

you have a lot of styles and features to choose from. Below are listed just a few of the many options you have:
Graco Booster Seats
There are several of the Graco Booster Seats that would be a good choice depending on the size of your child and whether or not you have a boy or a girl. Consumers in general report that they get good customer service from Graco.
Graco High Back TurboBooster Car Seat, Go Green
This Graco car seat is top rated by leading consumer magazines and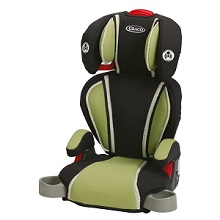 publications; and very popular with consumers.
Helps keep your child safe in highback mode from 30 to 100 lbs., from 38 to 52 inches tall and from 3 to 10 years old.
When your child is ready, this car seat converts to a backless booster for children from 40 to 100 lbs., from 40 to 57 inches tall and from 4 to 10 years of age. So longer use of the product for you and your child.
This toddler car seat booster features a multi-layer head rest that will help keep your child comfortable. Padded, height-adjustable armrests and hide-away cup holders keep kids smiling.
Open-loop belt guides help you correctly position your vehicle's seat belt.
The cute Go Green fashion is gender-neutral.
Comes in these colors also: Mosaic, Clariant, Ladessa and Spitfire.
---
Graco Snugride Infant Car Seat, Platinum
This model SnugRide infant car seat has GracoPedic foarm for luxurious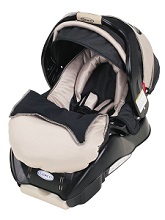 comfort, a premium all weather boot for added warmth and an infant head support with comfy harness covers.
It is equipped with a 5 point harness, an ergonomic carrying handle, a stay-in-car base, a canopy and an infant head rest for added comfort and support.
The harness straps that adjust at the front of the SnugRide infant car seat make getting your baby in and out of the car seat easier.
Keep an ey on your child through the peek-a-boo window in the canopy.
The SnugRide infant car seat is for infants 5 lbs. to 22 lbs. and less than 29 inches tall.
Use rear-facing only.
---
Graco SnugRide Click Connect 35 Car Seat, Tangerine
This SnugRide car seat is to be used rear-facing and for infants 4 to 35 lbs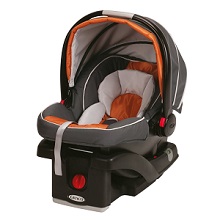 and up to 32 inches.
It also features "Click Connect" which allows you to "click" the baby car seat into the base in just one step, in about one second. It is also compatible with all Graco Click Connect strollers. The clear audio "click" lets you know it's secure.
The Click Connect 35 comes with a plush infant head support that easily removes as your child grows and needs more room.
It also comes equipped with a LATCH-equipped stay-in-car base, for extra-easy installation. There also is a handy six-postion dial adjustment and easy-to-read level indicator, which takes the guesswork out of installation.
You can also pick up a 2nd stay-in-car base for a cargiver or another parent to install in their vehicle.
A nice feature for your little on is the 3-panel rotating canopy that you can use to shield your little one's eyes from bright light.
Colors available: Tangerine, Chili Red and Gotham.
Check out more features and purchase from Ebay.com

---
Graco Backless TurboBooster Car Seat, Galaxy
This backless booster is the kind of stylish, comfortable seat your child will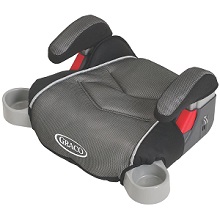 actually want to ride in, with its padded seat and height-adjustable armrests.
It is for kids ages 4 to 10 years old who are between 40 and 100 lbs. and 40 to 57 inches tall.
Dual, hideaway cup holders are just right for holding your child's water bottles or cups.
The padded seat cushion is machine washable while the plastic parts can be cleaned with mild soap and water.
Colors: Galaxy, Go Green, Jagger, Lala Love, Lovely Leopard, Robotico and Tallulah.
---
Graco Car Seat Covers
If you have a good car seat already but it just looks worn and old then you might want to consider just getting a new car seat cover for it. New Graco Car Seat Covers can also be used to change the theme on your old car seat from girl to boy or vice versa.
Where To Buy Baby Car Seats
Great online deals can be found for all of the different brands of baby car seats and car seat covers, including Evenflo, Britax, Graco and generic covers made to fit all baby car seats such as those from Hot Toddies, Itzy Ritzy, Baby Bella andEmmalu Designs at Ebay and Walmart.