Graco Car Seat Cover Replacement for Boys and Girls
Some of the best choices in baby travel items....
Baby Car Seats Covers for All Seasons
There are several reasons for getting a new baby car seat cover:
Your current car seat cover is worn or soiled
You would like one with a color to match your car's color
You would like one that is a color or pattern that you like better
You would like a chic, trendy style in your baby car seat cover
You would like an extra so you can wash one while using the other one
You are changing from using the seat for a son instead of a daughter or vice versa.
There are so many nice styles available. You can get bold and exciting prints and designs or you can get a quite, soothing pattern.
There are inexpensive baby seat covers that fit over your current car seat cover. These are usually padded, washable and stretch over the existing car seat cover. Some consider these type seat covers a safety risk because they interfere with the straps and other safety features of the baby car seat.
For a better fit try to find a car seat cover that is made to fit the manufacturer of your car seat.
---
Infant Car Seat Cover in Pink Champagne

This is a very stylish car seat cover for your Graco Snugride, Peg Perego and similar infant car seats.

Simply wrap the cover over the seat, slide the straps through the inserts and snap closed.

Covers material is woven polyester blends.
Canopies covers and matching seatbelt pads included.
---
Carseat Canopy Baby Infant Car Seat Cover w/Attachment Straps and Minky Fabric
This cover fits most makes and models of car seats. It has adjustable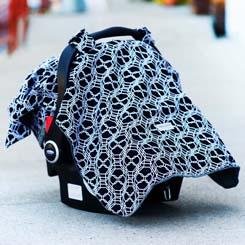 attchment straps which allow for a custom fit.
The fabric is not too thin for winter and not too heavy for summer. It is 100% cotton on the outside with a snuggly, soft and lovable 100% polyester minky interior.
It attaches to the carrier handle so there is space between the baby and the cover.
Four different colors and patterns: Knott (shown), Sprinkled, Belle and Reagan.
View more details and purchase at Ebay.com .
---
Baby Bella Maya Infant Car Seat Cover, Pink Leopard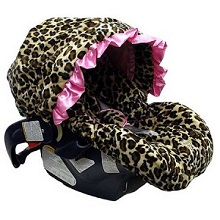 This car seat cover features a tan and brown leopard print and is a fun and trendy way to give your babys car seat an updated look.
Helps keep your car seat clean and is easily removed and washable. It can be removed, washed and securely placed back on the seat without having to disturb the integrity and safety of the installed car seat.
Utilizes snaps to allow easy access to car seat straps, simply slide the straps through the inserts and snap closed. Makes this pretty car seat cover functional as well as pretty.
Includes coordinating strap pads.
This infant car seat cover is designed to fit the Graco Snug Ride infant car seat and other similar car seats.
The canopy has an outer animal print with a hot pink lining and ruffle.
---
Infant Carseat Canopy Cover 3 Piece Whole Caboodle Baby Car Seat Cover Kit - Cotton
This kit includes car seat cover, canopy, 2 safety strap covers, removable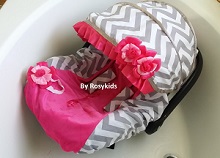 flowers and matching headband.
The color and pattern is a hot pink velvet cover and grey chevry cotton fabric canopy. There are other colors and patterns available online.
This soft and cuddly car seat cover is easy on/off your infant car seat and has a fully lined canopy. You will need to make sure that your current canopy can be taken off.
Fits Graco, Britax, Baby Trend, Chicco, Cosco Eddie Bauer, Evenflo, Maxi Cosi, Peg Perego, Snugli and Safety 1st car seats.
---
Nomie Baby Waterproof Toddler Car Seat Cover, Charcoal
This waterproof removable car seat cover will become one of your favorite car accessory. It has a waterproof lining which protects the original carseat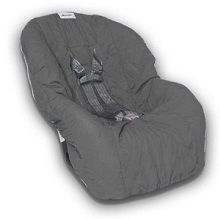 cover. You can slip it on over the existing cover. It also removes easily so you can just throw it in the washer and dryer and it is good as new.
These toddler car seat covers are super soft against your baby's skin and padded for absorption. The fabric is also quilted to prevent padding clumping while washing.
Elastic edges fit most national carseat brands, including the Britax Roundabout and Graco brands.
Colors are: Blue, Lime, Charcoal, Navy, Pink and White.
Shop Online and Save at Ebay.com
---
Toddler Car Seat Covers for Boys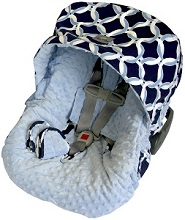 Itzy Ritzy has a nice toddler car seat cover that comes in Social Cirle Blue that lets your little fellow make his own fashion statement.
It is reversible and allows you to create 4 different combinations of looks. It easily slips over your existing infant car seat cover without the need to undo straps and removes in seconds for quick and easy cleanup.
Two pacifer pockets and two matching neck straps.
Machine wash in cold water with like colors. Line dry recommended.
Other colors and patterns available.
Shop the Large Selection of Itzy Ritzy Car Seat Covers at Ebay.com
---
Carseat Canopy 5 Pc Whole Caboodle Baby Infant Car Seat Cover Kit with Minky Fabric
Carseat Canopy™ products are made for "year-round" use. The fabrcs are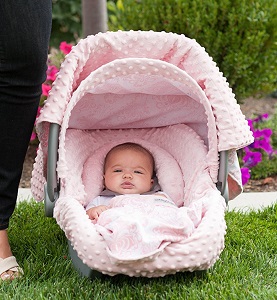 not to heavy for summer and not too thin for winter.
Each of the canopies have bold, fresh cutting edge prints on 100% cotton outers with soft, snuggly, lovable 100% polyester minky interiors. So your baby is comfortably covered.
5 piece kit includes car seat canopy, lap blanket, car seat umbrella, car seat slip cover and head support.
Will fit your Graco baby car seat as well as other brands.
Available online at: Ebay.com
---
Where To Buy Baby Car Seats Covers
Good deals can be found online on all the different manufacturers of baby car seats and car seat covers, including Britax, Graco and covers made to fit all baby car seats such as those from Itzy Ritzy, Baby Bella, Emmalu Designs and Hot Toddies at Ebay and Walmart.
Also check out Ebay's Todays Deals. You can find good deals on many items here.
---
---
Earn Free Rewards To Help Buy For Baby