Graco High Chairs
Just as Graco Car Seat Covers are a good selection for your baby's car seat, so are Graco High Chairs.

Baby High Chairs need to be sturdy and comfortable. You will find those features in Graco High Chairs. Here are a few of the really nice selections that Graco has for you to choose from.
---
Graco Contempo Highchair - Forecaster
This high chair is a favorite by many because of the design and color, it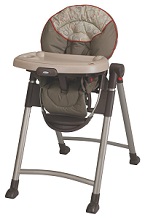 folds up to easily store..
The Graco Contempo Highchair is customizable to your needs. It features six height postions and 3 recline levels..
It has a clean seat pad which is machine washable. It can also simply be wiped clean with a damp cloth. Clean ups are always easy for mom.
It has a one-hand removable tray insert. When you are ready to clean up after a meal, just pop out the removable tray insert and put it in the dishwasher.
It has a soft infant head support and a dishwasher safe, pull out tray insert for easy and quick clean up.
Since safety is every parent's concern you will feel great about securing your child with the convertible 3 and 5 point harness on this high chair.
Another safety feature is the four locking wheels that will keep the high chair in place during meal times.
---
Graco SimpleSwitch Highchair and Booster, Little Hoot
The SimpleSwitch High Chair and Booster, in Little Hoot, is a 2-in-1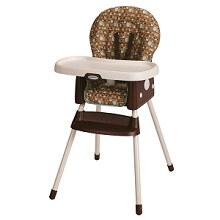 highchair that converts to booster when your child is ready.
This Graco high chair has a 3 reclining positions that helps position baby for a comfortable feeding.
There is a machine-washable seat pad to help make clean up easy.
There is a convertible 3 and 5 point harness that keeps baby secured in the high chair.
As you switch from the baby high chair to the toddler high chair or booster you will be able to store the legs right in the built in storage, so that you can keep all of your Graco high chair parts in one unit.
The maximum weight capacity for the highchair is 37 lbs and as a feeding booster is 60 lbs.
Colors: Ariel, Little Hoot, Pasadena and Tinker.
---
Graco Blossom 4-in-1 Seating System (Highchair) - Vance
This is a 4-in-1 highchair / seating system. It has four distinct modes of use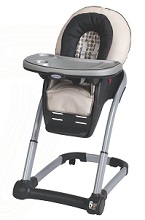 and easily adjust to your growning child's seating needs.
The Blossom features 6 height positions and 3 recline levels so you can adjust the feeding chair to right level for your table and your child..
Graco has included a removable seat back insert to help this high chair grow with your child from infant to toddler to "big kid".
Thanks to the machine washable seat pad keeping your child's dining space is easier. Just remove the seat pad, wash it with gentle detergent and let it air dry.
The Graco Blossom features a 3-position adjustable foot rest for your child's comfort.
This high chair features wheels on the front legs and locking rear casters, so that moving the highchair around the home is always simple for mom and dad.
Colors include: Vance, Sapphire,Fifer and Winslet.
Let your child comfortably join the family at the dinner table or watch mommy while she is making dinner in the kitchen.
This high chair is one of the more popular highchairs and can be found on Ebay.com.

---
Graco DuoDiner LX Highchair, Metropolis
The Graco DuoDiner LX Highchair grows with your child. It has 3 distinct stages, making it a stand-out among 3-in-1 high chairs.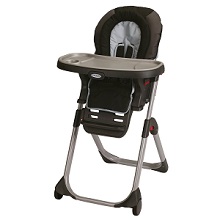 From infant to toddler your child will have a safe and comfortable place to enjoy his or her meals.
Buys parents will love the one-hand removable tray insert. Just pop it out and put it in the dishwasher for easy clean up.
Folding your Graco DuoDiner LX high chair is simple, thanks to the easy to use folding mechanism. Simply squeeze the handles on either side of the seat and the DuoDiner folds so that you can store it or travel with it easily.
You will feel great about securing your baby with the convertible 3 and 5 point harness.
Learn more and purchase at Ebay.com

---
Where To Buy Baby Car Seats and High Chairs
Online deals can be found for all of the different brands of baby car seats, high chairs and car seat covers, including Evenflo, Safety First, Britax, Graco as well as generic seat covers made to fit all baby car seats such as those from Hot Toddies, Itzy Ritzy, Baby Bella and Emmalu Designs at Ebay and Walmart.